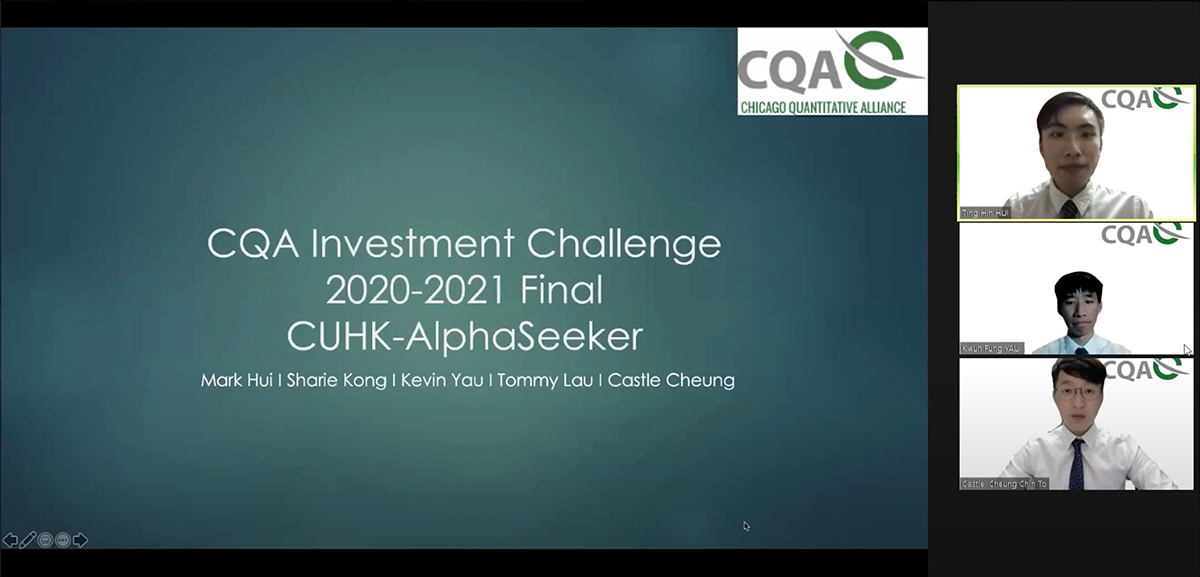 The top 10 teams in the trading session must make a video presentation on portfolio management.
Castle CHEUNG, Mark HUI
2020-21 CQA Investment Challenge
"A valuable experience for students interested in working in quant trading firms or sales and trading departments. This competition gave us real-world experience managing a large portfolio and competing with other teams under strict risk control requirements, just like real trading firms. The experience gives us a glimpse into the industry and what it takes to manage a portfolio professionally.  

In addition to quantitative skills and fundamental knowledge, team collaboration is critical to our third place finish. Since it is nearly impossible to monitor > 50 long/short ideas (at least 100 stocks) alone, managing a large portfolio with a system requires extensive communication between partners. Our team has clearly defined roles and coverage of each member and meets once a week to discuss. Frequent communication and clear work division also help stand out from the competition." 

GLEF students Castle CHEUNG, Mark HUI, and their CUHK teammates won 3rd place in the 2020-21 CQA Investment Challenge. Their team name is CUHK-AlphaSeeker. 

The CQA Investment Challenge is an equity portfolio management competition in which students can learn and apply stock selection and portfolio management skills in a simulated hedge fund experience. The Challenge provides teams with first-hand experience of being a portfolio manager by managing money, explaining their investment process and discussing fund performance. Teams will handle all aspects of portfolio management, including stock selection, portfolio construction, and risk management. Teams must also complete a video review of their investment team, philosophy/process, and performance.
Clients
You're in good company
Fidelity is a CMS Webflow template
Clients
You're in good company
Fidelity is a CMS Webflow template